Top 10 Booths to Visit at ASIS 2017
ASIS 2017 is upon us! Dallas, Texas will be inundated with hundreds of security companies ready to announce, showcase and demo their most innovative products for attendees so it is sometimes a little hard to figure out which booths you should stop at.
Security Today has put together a list of the top 10 booths we deem are "must see" at ASIS this year! If you do stop by these booths, snap a photo or selfie and tweet it to @SecurToday mentioning the Top 10 Booths article. We love to see attendees taking our advice!
If you can't make it to the show, don't worry!
Security Today will be bringing the show to you! Check out our Live From ASIS multimedia page where all the top social media posts from the show are gathered in one place for easy consumption.
And without further to do, here is one of the top 10 booths to visit at ASIS 2017 this year:
Costar Video Systems
Costar Video Systems, a provider of electronic security solutions, will have a lot to see at the show this year. You'll get a chance to see a demo of their new (and free) Video Management Software, StarNET. This demo will feature their new video analytics, visual reference mapping, system health checking and more. You also won't want to miss out on a chance to meet Richard Rawlings from the Discovery Channel's Fast N' Loud reality TV show. He will be in the Costar Video Systems booth signing autographs and taking selfies with one of his signature cars on Wednesday, September 27th from 2:00 PM – 3:00 PM and 3:30 PM – 4:30 PM.
Stop by and see all that Costar Video Systems has to offer at booth 2209.
Want to see the other top 10 booths to visit at ASIS 2017?!
Click here to read the rest of Security Today's article.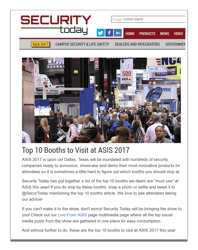 By Sydny Shepard, Group Social Media Editor of Security Today
This article originally appeared on the Security Today website.